Ridge Runners Outfitting LLC - Testimonials
Here's what a few of our customers have had to say about us.
Have a testimonial of your own to share?
Send a Testimonial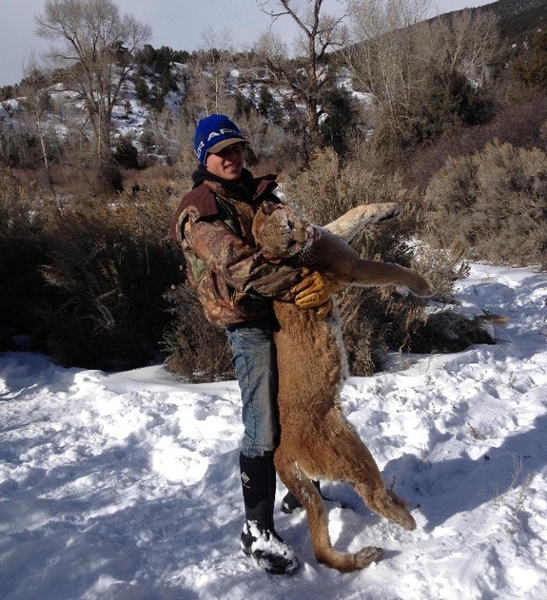 Eric
Trophy Northern Colorado Mountain Lion
My lion hunt with Dillon was one of the greatest experiences of my life. Dillon is an outstanding guide and knows what he is talking about. He works hard at what he does whether he is out cutting tracks at 4:00 AM or if he is taking care of his dogs. His dogs are phenomenal as well. When Dillon turned them out at a fresh kill the morning that I got my lion we had three lions treed within 20-30 minutes at different spots. Also, there are not many people that I would walk out onto a cliff with a mountain lion for. However Dillon's confidence and knowledge of the cats made it easy. This hunt is one that I will remember for the rest of my life because of the friendliness and great hunt that Dillon supplied myself with!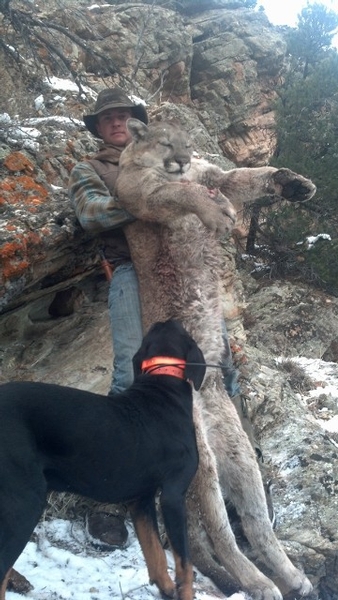 Kurt - Colorado
Quick and Succesful Mountain Lion Hunt - Colorado
My hunting experience with Ridge Runners was successful, short, and sweet. On my first day out we cut a two day old track early in the morning and turned the dogs loose at sunrise. The hounds trailed the cat over near equal proportions of bare and snow covered ground. Around 10 am cat, dogs, Dillon the houndsman, and I were at the tree. A shot later I filled my tag and was back to the truck in time for lunch!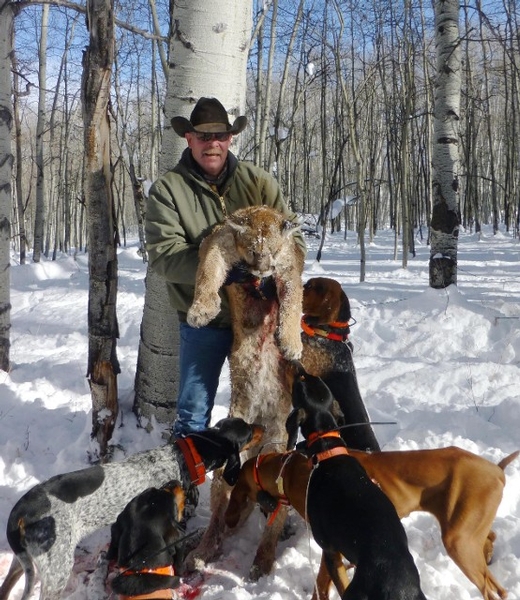 Kevin - Colorado
Another Succesful Trophy North Central Colorado Mountain Lion Hunt
My hunt with Dillon was great! He has great knowledge of lion hunting and is very professional with his clients. His care and trust in his dogs is incomparable. He works hard at having a successful hunt. I would recommend anyone to book a hunt with Ridge Runners Outfitting LLC.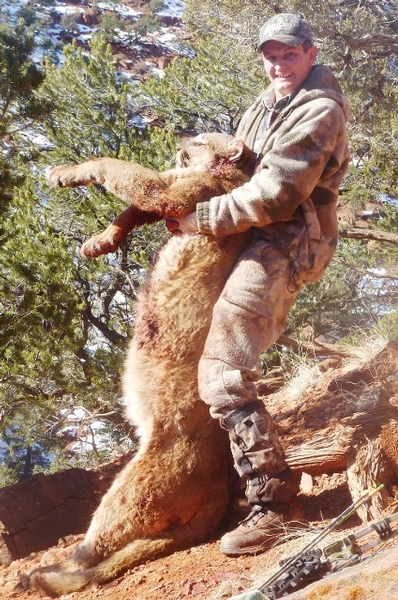 Travor Dunsdon - Colorado
Big Colorado Mountain Lion -Burns, CO
Dillon took me on a mountain lion hunt in 2013, and it was fantastic! I had the time of my life riding around with him looking for tracks, and learning as much as I could about hunting big cats, as well as what to do when we caught one. It was obvious to me that Dillon was well informed on all these subjects, and that hunting lions is something he loves to do! We were both ecstatic the morning he spotted a really fresh and big lion track. Within a few minutes we had the dogs ready to turn loose. Not only does Dillon know his stuff, but his dogs do too. Within a few hundred yards from where we turned out the dogs they caught up with the lion and the chase was on. Thanks to Dillon's persistence and hard work, I was able to harvest a great tom a couple of miles down the trail! If you are considering a lion hunt than I highly recommend Dillon Kujala as the guide of choice for a great experience and a great hunt.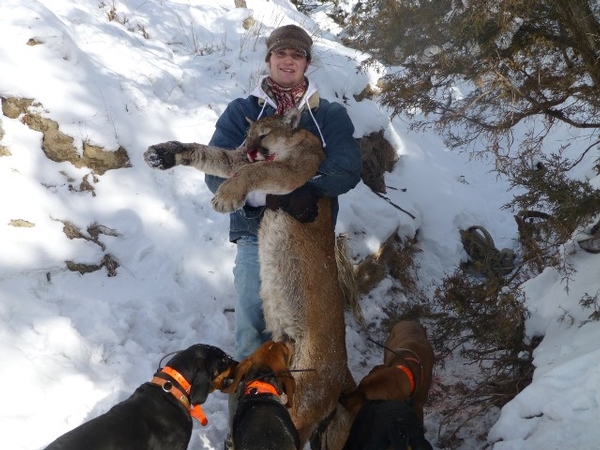 Dylan Wahlert - Wyoming
Trophy Colorado Mountain Lion Hunt Success
This was definitely a hunt that will be remembered. I'll tell the story for the rest of my life. I had a blast every minute of the 2 days I spent there. You can't find a better team of dogs. They worked phenomenal finding the trail and keeping the cat treed. And with Dillon leading them, your chances of getting a cat are extremely well. He really knows his stuff. Dillon's custom hunting rig proved itself worthy as well. We went through some rough terrain and that thing didn't weaken. To top it all off, after a full day of tracking and hunting, you're welcomed back to the ranch with great food and great people. This hunt was by far the best birthday gift ever! I'd strongly recommend this outfit to anyone who wants to go on a lion hunt of a lifetime.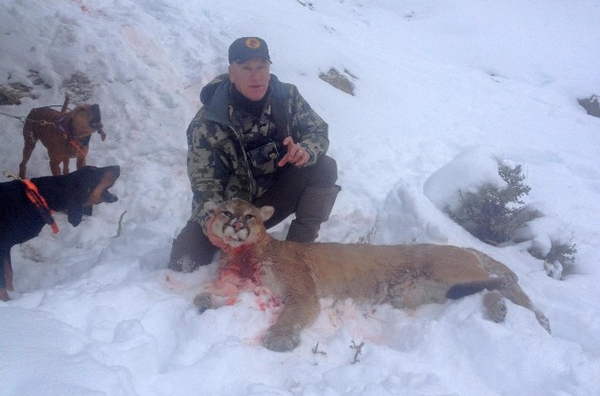 Steve - Illinois
Steve - Successful Colorado Mountain Lion Hunt
Let's face it, for most of us the cost of a lion hunt isnt just a drop in the bucket. It's money we worked hard for and as a result we want to spend it with a guide who will do everything in his power to not only lead a safe, exciting, and ethical hunt but one who cares as much about our success as we do. I honestly felt like I found that in Dillon. I was absolutely amazed by his drive, work ethic, and enthusiasm, up at 2:00 AM cutting tracks, hunting all day, and then tending to his dogs, chores at home. Where he gets his energy I'll never know but one thing is obvious, he absolutely loves lion hunting! Literally, my hunt can pretty much be summed up in one statement; he did all the work, I just showed up to fire a shot. Of course as hunters we all know that there is never a guarantee of success regardless of what your game of choice might be, however hiring the right guide can certainly make the difference between filling your tag or not. If you're considering a lion hunt in Colorado, look no further than Dillon at Ridge Runners Outfitting. Thanks very much to Dillon and Samantha for a great hunt. Frankly the entire experience was amazing, taking a lion was just an added bonus!